How to Start an Import / Export Business
While many will claim that importing from China to the United States is 'easier than ever,' it can still be quite a complicated task. The instructions below break this task down into easy to follow steps.
Steps to Start an Import Business
Select a product to import.The first step to successful importing is choosing the right product. This can be more difficult than simply selecting the cheapest item available, or the one, which will allow for the highest mark-up. Some guidelines to follow when selecting your product include:

Choose a product you love. Passion will keep you motivated and it is contagious, so others will fall in love with your product more readily, when they can see your passion for it.
Think about the shipping costs. Products, which can be shipped in large quantities, can be far less expensive than those that cannot. Think carefully about the size of your product and how much you can fit into one shipment.
Consider the uniqueness of the item. When producing a product that is not very unique, you may run the risk of having someone else begin mass producing it.

Make a list of Chinese exporters, or suppliers, who can provide you with your product.You can find suppliers using online outsourcing directories or professional sourcing companies. Some good places to start include:
Contact each supplier on your list.Once you have a list of exporters, you can begin asking questions in order to narrow it down to the supplier who is right for you. Some things you will want to ask each exporter to provide you with include:

Client references. A reputable supplier should be able to provide you with client testimonials and references. Once they do, check them!
Business licensing information. You want to be sure that any company you do business with is properly licensed and in compliance with all applicable trade laws in order to avoid future legal problems which may affect your business.
Manufacturing and staffing information. Be sure you understand the exporter's relationship to the manufacturer, i.e. do they manufacture the product themselves, and if not, do they get paid by the manufacturer as well, or do they only work for you?
The name and location of the factory producing the product. If an exporter refuses to provide you with the name and address of the factory where the product is manufactured, they may not be a reputable supplier.
Information regarding the experience of the factory in producing your particular product. Cost is not the only the consideration when choosing a supplier, quality may be just as important, and the manufacturer's experience can be a good indication of the quality of work.
Samples of the product. Unless you will be manufacturing your own new product, the supplier should be able to provide you with samples of the product so that you can get a better idea of the quality and know ahead of time exactly what you are paying for.

Negotiate a deal with your favorite supplier.Remember that business interactions with Chinese exporters are governed by Chinese culture and customs, and different negotiation skills and tactics may be required. Some things to keep in mind when negotiating with Chinese suppliers include:

The focus is on relationships. Chinese do not do business with companies, they do business with people, and each business deal creates a new relationship with the other party. Chinese exporters are therefore not likely to jump into a deal until they have had the opportunity to get to know you a little.
Reliance is on moral influence, not legal practice. Chinese executives tend to rely more on a party's moral obligation, rather than its legal one. This does not mean you should ignore the wise business practice of having a signed contract, but you should let your desire to get a signature on a contract take a back seat to building a trusting relationship where each party will feel morally obligated to perform, even if they did not have a signed contract.
Hierarchy is important. Shaking the hand of a low ranking executive first or calling a high-ranking executive by his first name can jeopardize interpersonal relationships and affect a Chinese executive's willingness to negotiate. Pay close attention to how executives address each other and follow their lead.

Locate U.S. resellers. Locating resellers for a product can be a difficult and time-consuming process, but you can increase your odds of success and decrease the amount of time you spend by following some simple steps.

Contact each potential reseller by telephone and introduce yourself and your company to the decision maker. Ask if they would like to receive some information via e-mail and verify their email address.
Send a brief e-mail with a professionally designed attachment, which describes your company and your product.
Follow up with a phone call a few days after the e-mail and ask for a meeting. At the meeting, sell your product and get a signed contract so you can begin ordering product.

Begin placing your orders.Each company will have a minimum order amount and a basic shipping agreement. The most common types of shipping arrangement for Chinese exports to the U.S. include:

Express Mail Service ("EMS"). EMS is a worldwide shipping service that works with the United States Post Office ("USPS") to deliver goods from various countries to the United States.
DHL International ("DHL"). DHL is a global shipping company providing shipping services commonly used by Chinese suppliers to ship goods to the Unites States.
Free On Board ("FOB"). FOB is used for freight shipping, in conjunction with a port of loading. This means that the seller is responsible for paying transportation costs of the goods to the indicated port of loading, or shipment, as well as loading costs. The buyer is then responsible for paying the costs of transport, insurance, unloading, and transportation from the arrival port. In this type of agreement the buyer owns the goods as soon as they leave the port of shipping.

Get your product through U.S. Customs and Border Protection ("CBP") and pay your duties. For help with this, contact a service port of entry near you. Ask to speak with a CBP import specialist assigned to the product you are importing. Import specialists can provide you with product specific requirements, advisory duty rates, answer your questions about filing an entry, and can assist you with preparing and filing the required paperwork. You can locate a port of entry and its contact information by visiting the CBP's website at http://cbp.gov/xp/cgov/toolbox/contacts/ports/.
Arrange for pick-up and transport. Contact a commercial cargo company to arrange to have your shipment picked up at the port of entry and shipped to your warehouse or local resellers. Cargo companies can be located by consulting your local yellow pages or favorite online phone book.
Payment for Chinese exports is most often made by credit card, but many Chinese suppliers also accept other forms of payment, such as cash, check, or even PayPal.
Use escrow services for payment whenever possible. Escrow companies allow a buyer to deposit funds with an independent third party, to be delivered to the seller once he or she has fulfilled his or her end of the supply and shipping agreement.
You need to have a good estimate of the landing cost before you make your order. Landing cost = cost of the goods fob + transport costs by forwarder + import duties (if any) + local transport costs + cost of service providers (inspections, agents, etc.). There may be many hidden costs and you can consult an import management company, but the best way to avoid bad surprises is by making a first order of a small quantity, and collect all costs and fine tune your landing cost estimate.
Pay attention to import duties. Import duties depend on hs code of the goods you import, the countries of origin (China) and destination. If your Chinese supplier has some export experience, he shall know what is the HS code for your product, but do your homework and check the product description of the HS code corresponds to the product you import. Definitions are sometime vague. A wrong HS code may delay the custom clearance of your shipment.
A letter of credit is commonly used in trade with China. Go to your bank to get detail formality and cost.
Export agents in China are very commonly hired by Chinese exporters. Some of these export agents are also 3rd-party suppliers, others just provide export services.
Neglecting compliance can be very costly. This may force you to pay expensive and unexpected customs duty, such as anti-dumping duty, as well as risk delaying your customs clearance. This will cost you expensive storage fees at a railway station or container yard.
Visiting trade shows is a great way to see suppliers face-to-face.
Usually an initial deposit of between 30-50% will be requested by a Chinese Manufacturer to get your product/order into production.
For more information about getting your product through U.S. Customs, see the CBP's publication, Basic Importing and Exporting, located on its website at http://cbp.gov/linkhandler/cgov/newsroom/publications/trade/iius.ctt/iius.pdf.
Warnings
Never pay the entire amount of the purchase price upfront. If there is a problem with the order, you may not be able to get your money back.
You should be aware of any entry requirements specific to the particular product you are importing, including those of federal agencies besides CBP. One consultation with an experienced attorney may be all you need to collect all of the information necessary to ensure you are in compliance with applicable laws and requirements.
To make sure you're dealing with a professional, try making a phone call with this wholesaler. When this wholesaler sounds unprofessional or doesn't carry on with business-like conversations or just answers with a simple "Yes" or "Hello" without mentioning his name or the business, then you might be dealing with fakes.
During the initial contacts, wholesalers really request for a business license or sales tax ID. Mostly, these are required by legitimate wholesalers. US sellers desiring to buy from US wholesalers need a tax ID. But if you're living outside of the US, you no longer need a tax ID.
At first, wholesalers declare that they only adhere to secured form of payments like credit cards, Paypal and others. Later on, they'll declare that only wire transfers or western union are accepted. Not all wholesalers resorting to unsecured payment methods are deceitful. Yet, deceptive people operate in this manner. So, always be cautious if ever this happens especially when you haven't known the person.
Websites offer their physical addresses and contact details. But if their website doesn't, then you need to be careful. Ask for their contact details and if they don't mind you coming in and checking on their offices. This shouldn't be a problem at all if they are not hiding something from you.
Wholesalers may assert that they don't have stocks in hand and continue to ask for upfront payments. So, just ask for photographic evidences of the supplier's stocks and have it published in the newspaper. There's no guarantee that it works but there's no harm in trying!
Reference: http://www.wikihow.com/Import-from-China-into-the-USA
Learn More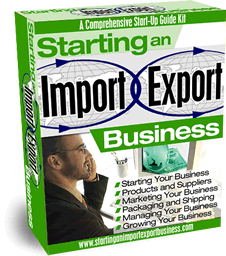 Here's What You'll Learn When You Grab Your Copy Of "The Insider's Guide To Creating Starting Your Own Import Export Business"
The real secret of forming strategic relationships with people who specialize in other areas of Import Export (and how you can use these amazing resources to skyrocket your income without lifting a finger).
How to virtually guarantee that each and every client becomes your loyal cheerleader who brings you a steady stream of new clients (once you know this, advertising isn't even necessary).
A step-by-step formula for coming up with the perfect price for your services (never worry about how much to charge again).
The single most important thing you must include in any contract dealing with suppliers, and why ignoring this will drive them into the arms of your competitors.
How to create your Import Export business so that it can easily grow larger and larger (many people forget this step, and then when they decide to expand their business, it's too late).
How to build an amazingly profitable Import Export business that will leave your competition in the dust, insuring they'll be insanely jealous and desperate to know your secrets!
You'll be able to enjoy the ultimate freedom that comes with being your own boss, and creating a non-stop flood of paying clients who can't wait to do business with you again.
The number one key ingredient that will determine whether you are wildly successful in Import Export, or if you remain at the bottom unnoticed forever.
You'll learn everything you need to know in order to deal with customs. It's easy once you understand how it works, and use these time-saving shortcuts that most beginners never learn about.
You'll easily familiarize yourself with the laws and regulations so you can avoid the legal hassles that plenty of other people had to deal with... because they skipped this step!
Most people think that only tangible products can be exported, but my amazing guide will also teach you how to offer services that people pay big money for overseas!
How to use direct mail to promote your new business... so that your clients come to YOU!
You'll learn exactly who your target client is, and how to go after them in a way that sets you apart from everyone else in the field.
Simple tricks professionals use to attract all the clients they could ever want on the Internet (it's easy to do once you know the secret, and you'll thank God that you learned this before you started your business)!
The 5 most important people you'll meet in the Import Export business, and why knowing this will dramatically shortcut your learning curve.
...and That's Just A Small "Taste" Of What's In Store For You!
Learn More
Super-fast you'll learn:
* Import/Export? - Which country?
* What country to export. A complete analysis of over 50 countries with the details of the BEST vehicles to export.
* What are the most profitable export vehicles to export to that country.
* How to determine the retail prices of export cars in that country.
* How to buy U.S. cars at low wholesale prices from auctions and dealers.
* How to safely ship your export cars.
* How to find the regulations, taxes, duties for any country.... with one
phone call!
* How to find overseas dealers and partners ready to buy every export car.
* How to easily sell export cars overseas by operating as a "finder" for US cars.
* How the government will support you with specialists in Washington and in your country of export whose job is to help.
* How the government will help you find buyers in your country of choice.
* And much, much, more!
Learn More
(95035) Page Views
None found.