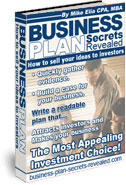 This Business Plan Manual realizes that preparing a business plan or fundraising is not something most business owners do often... so whether you plan to hire an outside advisor or do it yourself, this manual can save you from doing it wrong, getting ripped off, or simply failing.
135 Page Business Plan Manual
Teaches You Step-by-Step How To
Create and Market A Business Plan That
Attracts Investors, Bankers and Other Key People to Your Business and Successfully Raise Money
Learn More
"Mike delivers what he promises on the title page: he teaches you how to quickly gather evidence, build a case for your business, and write a readable plan that attracts investors and makes your business the most appealing investment choice. Even if you already own other business planning resources, I highly recommend Business Plan Secrets Revealed." Click here for the entire review.
Art Tuner
(144) Page Views