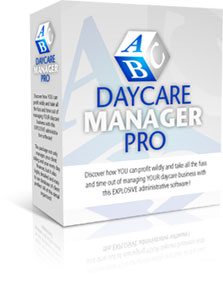 Run and manage all the vital functions of your daycare center from ONE central location!
Use professionally designed templates and forms to produce professionally customized reports and invoices!
Manage your client profiles, your class attendance records, your invoicing and the accounting of your daycare expenses all at once with this dynamic one-stop program!
Personalize and customize each of your clients' records and billing procedures so that you can deliver tailor made solutions to meet the individual needs of each client!
Save valuable time and effort by being able to add class notes and progress reports to a client's file for safe and accurate administrative feedback.
Learn More
Jayne has used Day Care Manager Pro and it has changed her life!...

" I've used Day Care Manager Pro for the last 4 months now, and now that I am totally used to it and familiar with all of the functions, I would recommend this to anyone serious about their business. I was pretty organized as far as the client billing and personalized service I offered to my customers, but it took me so long to do it!

Now Daycare Manager Pro does it all for me. I have automatic attendance entries set up for my regular children, and the automatic billing feature makes sure that I don't forget to bill my clients. It really has saved me so much time and hassle.

In fact, Day Care Manager Pro has has made it so much easier for me, I'm have increased my clients by a further 15 children, without having to spend any extra time in the office. I'm generating extra revenue, and it is less effort than before! I highly recommend this program.
Jayne Eaton, Miami, Florida
(54) Page Views