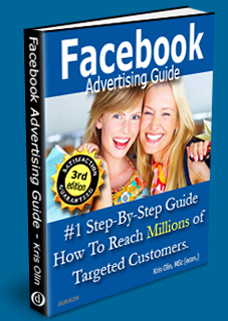 Facebook Advertising Guide, 3rd Ed.
will show you all you need to know how to create successful marketing and advertising campaigns right on Facebook.
You will learn how to avoid costly mistakes that can be crucial to your online marketing success. You will also learn how to create great Facebook Pages, Groups, Places, Social Plugins and how to use them to your advantage in your business marketing.
Learn More
"I have been enjoying your book and am learning lots of useful things. I have not seen 153 pages of material so thoroughly loaded with quality observations, suggestions and advice before."
Craig White Professor of Sociology Fairmont State University, West Virginia
(159) Page Views