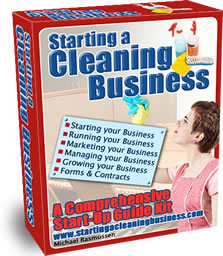 So you're serious about starting your own cleaning business?
There's a lot to think about…
There is an element of risk in starting any business. Eliminating that risk through knowledge and planning will lead to your success in the cleaning business.
As you can see from the table of contents below, this extensive kit has everything you will need to get your business off the ground and running. The kit has been written to provide you with the latest information necessary to start a cleaning business.
Learn More
(138) Page Views